LA LONTANANZA CD
---
Luigi Nono: La lontananza nostalgica utopica futura
Hans van Eck: Nuctemeron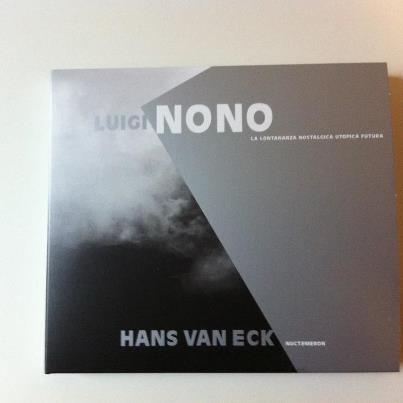 Now available at quality CD shops, and on the Internet at a.o. Amazon, Discogs, Bestbuy, Forcedexposure, Mimaroglumusicsales, Soundcloud, Ear-rational, Ceron, Amazon-Japan
Our Nono en van Eck CD


AN UTOPIAN MUSICAL JOURNEY THROUGH YOUR SOUL
'La Lontananza'
with acoustical and electronic music by the Schreck Ensemble.


On the SACD/CD two works are combined from successful productions of the Schreck Ensemble: from the project Ascolta Luigi Nono's brilliant La lontananza nostalgica utopica futura and from our magical chamber opera Nuctemeron, based on an ancient text or the Greek philosopher/alchemist Apollonius Tyaneus, the concert version of this music.

The philosophical reflections in La Lontananza and Nuctemeron offer the listener a musical journey through a breathtaking and ethereal tone and sound scenery.

The album is released by 'Sub Rosa' (Brussels, Belgium), a label specialized in contemporary music, and it will be distributed worldwide.

The works are on the repertoire of the Schreck Ensemble, the only Dutch ensemble that performs the experimental La lontananza nostalgica utopica futura.

Review: (in Dutch) Aart van der Wal, Jan de Kruijff, Emanuel Overbeeke (Luister), (in German) Raphael Smarzoch (Neue Zeitung für Musik)


---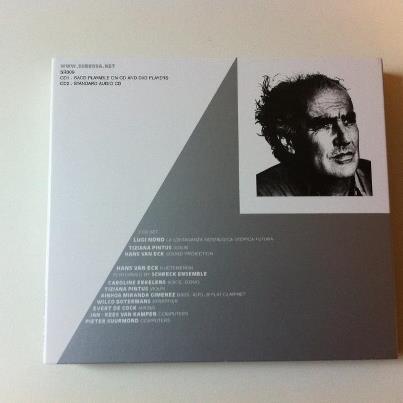 La Lontananza Nostalgica Utopica Futura
Of all the great composers who determined the course of contemporary music after 1950, Luigi Nono was one of the two (Stockhausen being the other) that used electronics extensively in his works. This not only means that a majority of these works require live electronics or tapes during the performance, but that it also has become a determining factor.

"Electronic sound transformation, timbral distribution and time spaces does not mean the rigidity of the electronically extended sound, but the personal interpretation, a very important point for Nono." (Hans-Peter Haller, Diary note 3.9.84). (1)

'La Lontananza Nostalgica Utopica Futura' (1988/1989) is a composition for solo violin and 8 sound tracks. Written by Luigi Nono (1924 - 1990), an avant-gardistic composer of electronic and acoustical music, for the renowned violinist Gidon Kremer.

The composition leads the listener to an utopian world full of ethereal and dramatic sounds.

Listen to some samples of the music:
fragment 1 - La Lontananza
fragment 2 - La Lontananza

Tiziana Pintus was thanks to her Italian background able to interpret Nono's entries in his handwritten score . Thus invaluable information for a faithful rendering of this composition was gathered. Tiziana Pintus and Hans van Eck have been working closely together for many years, and you can hear that in their perfect interaction in this performance.
The press on the Schreck Ensemble:
... The music of Nono demands the utmost concentration of the musicians and a good sense of timing in a slow dramatic rhythm. The members of the Schreck-ensemble are handling this very well ...
... also because of the exemplary way the technicians of the Schreck -ensemble play along with the music behind their mixing desks .... (Emile Wennekes in NRC Handelsblad)
... an impressive concert by the Schreck Ensemble...dedicated to Nono ... (Rene van Peer in Brabants Dagblad)
The sources from which quotations are taken in the accompanying booklet of the album:
Grant Chu Covell:
CD review: Nono's Shrug at Immortality:
La lontananza nostalgica utopica futura [March 2004]

Stephen Beville:
Luigi Nono and the British Musical Intelligentsia [2006]

Stefan Beyst:
Luigi Nono: Il Prometeo A revolutionary's swansong [June-July 2003]

Paul Luttikhuis:
Componeren met gebalde vuisten.
De revolutie-muziek van Luigi Nono
NRC Handelsblad, [June 12 1992]

Anne Ozorio:
SACD review:
Luigi NONO (1924-1990) Prometeo

Anne Ozorio:
Concert review of a performance in London. 9 and 10.5. 2008
Luigi Nono , Prometeo, Tragedia dell'ascolto

Alexander Sigman:
Concert review: Luigi Nono: La lontananza nostalgica utopica futura
Yerba Buena Center for the Arts, San Francisco, March 1st, 2010

---
Nuctemeron
'Nuctemeron' is a hermetic-alchemistic chamber opera (2000/2005) based on a text of the neoplatonist Apollonius of Tyana. Hans van Eck composed the music and Arie van Schutterhoef created video art. Nuctemeron describes in a powerful and ornate style, the transfiguration of the human soul in a cycle of twelve hours. Short aphorisms, that penetrate deep into the essence of every step taken.
Especially for 'Nuctemeron' the stratifier has been designed, a multi dimensional instrument with a spectacular sound.

In 2008 composer Hans van Eck created a shorter concert version for the standard scoring of the Schreck Ensemble:
vioce, violin, (bass-, alto-. b-flat-) clarinet, sound tracks and live-electronics.

Listen to fragment 1 from Nuctemeron
Listen to fragment 2 from Nuctemeron
Listen to fragment 3 from Nuctemeron

The pers on Hans van Eck:
Van Eck has not only learned a lot about the art of combining acoustical and electronic sounds [from Luigi Nono], as well as from Ton Bruynel, but also created his own interesting style.
The great gain of this release .... is that after the death of Bruynel the Netherlands has again gained a fascinating composer in a genre that deserves much more attention.
(Emanuel Overbeeke in Luister 690 - 2013)
Text written for the performance of Nuctemeron:
on the website 2006.


---
---

Reactions on our Album sturen, or booking of these works:



---
all our CD's:
| | |
| --- | --- |
| Blind Area | The BassBox |
| | |
| The Geluidmachine | Lontananza |
| | |