Comparser
---
- Comparser is a computer programme for spectrum recognition - special 'intelligent' software which follows the musicians' playing and reacts to it. -

---
The Schreck Ensemble is no ordinary ensemble, and Schreck Assembly goes further than the average improvisation group. Besides giving performances, we are also occupied with experiments in sound and designing instruments and computer software. Our goal is to create even more extraordinary and exciting programmes.
The most sensational results would be possible if the computers and live electronics were as flexible as the acoustic instruments in their timing and ability to express nuances. Unfortunately, this is not the case. However, since 1992 the Schreck Ensemble has harboured the desire to involve the computer in performing with the musicians. This entails the computer being able to recognise what point has been reached in the music at a given moment. In fact, ever since the performance of Wire Movements for Bass Clarinet and Interactive Computer Systems we have been on a quest to devise 'ears for the computer'.
| | |
| --- | --- |
| | We had already tried out all equipment and software then in existence and it fell far short of satisfying our requirements. Consequently, we decided that we needed to create something ourselves and in 1999 software developer Pieter Suurmond began to write a programme of his own to enable us to approach our ideal. This developed into ComParser, a software programme that recognises what point has been reached in the music by comparing the current playing with former performances: a programme with an inbuilt intelligence. To this end Pieter created so-called 'neurale netwerken' networks' which make comparisons between everything: tones and sounds alike. In this way, the computer can also follow music that is not connected to notes or a score; it can even handle improvisation. |
| | |
| --- | --- |
| The first successful version of 2002 was used in the performance of 'Poemi Eterni' and has been continually improved and expanded upon since that time. | |
The technical details about this programme are available on Pieter Suurmond's, website, where it is also possible to download the programme and the source code free of charge.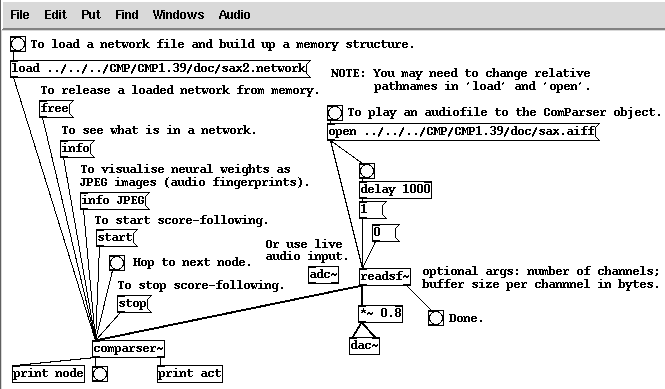 ComParser as 'external' in 'PD'



- - - >to Pieters' webpage
- - - >to ComParser-page on Pieters' Wiki
- - - >to the Laboratory Index