The Schreck Ensemble's Artistic Mission and Philosophy
---
The Schreck Ensemble views as its artistic mission the creation of music that expands and intensifies its audience's aural experience. In this endeavour, the wealth and diversity of sound colour is the main inspirational force behind our concerts, music theatre performances and improvisations. Since the ensemble's conception, the use of technological devices - electronic amplification of sound, computers and live electronics - has played a vital role.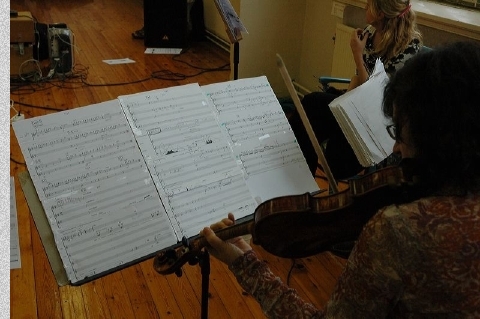 In our view the colour of sounds and music can assume almost magical qualities. When the characteristics and nuances of sounds, melodies and harmonies take on new dimensions, when the whole hall is made to resonate, we travel beyond the normal limits of our perception in listening to music. This fascination with all aspects of sound is what drives us; we invite the listener to venture with us on a journey through unfamiliar soundscapes.

We find it important to preserve the tradition of classical style music-making alongside our championing of innovation. It is our dream to be able to combine the use of our musical instruments with an equally refined, musical mastery over electronics and computer technology, opening the door to the creation of totally new sounds. As an ensemble that has always welcomed innovative uses of technological means, we have always been enthusiastic about new developments in this area. It is a driving priority for us to consider how we can use new technical possibilities in realising our performances. At the heart of this lies our desire to present our audiences with the most exciting, riveting and intriguing performance imaginable. So there must be a definite artistic need behind our incorporation of electronics in our projects.
We strive to create strikingly new, unique music and encourage other composers in this endeavour.

For a long time improvisation has featured prominently in Schreck's repertoire alongside composed music. Recently we have set up a separate ensemble, Schreck Assembly , dedicated to the performance of improvised music. Our goal is to give more performances with both the Schreck Ensemble and Schreck Assembly and to expand our current audience.
The creation of new instruments such as the Stratifier and the BassBox along with the development of special software such as Comparser will undoubtedly keep Schreck increasingly in the public eye.
And there's much more to come.

If you would like to give financial support to our initiative, we invite you to become a 'friend' of Schreck.
You can transfer your donation into the ensemble's bank account number :
6037484
IBAN: NL 28 PSTB 00060374 84
BIC: PSTBNL21

on the name of:

Stichting Schreck
Werkendamstraat 39
1107 KK Amsterdam
the Netherlands

Or you can e-mail us to discuss other possibilities of sponsoring the ensemble.